-40%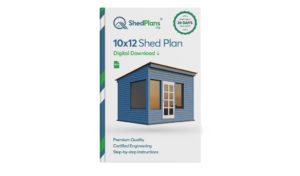 10×12 Office Shed Plan
Uses: office, storage, studio, yoga

Complete hardware and materials list

Shopping list

Complete lumberyard cut list

Accurate blueprints with easy-read measurements

Colorful diagrams to check your progress

Guidance for building a stable foundation

Instructions for building shed doors from a scratch

Diagrams for installing vents

Printable plans for easy reference
$24.99 – $29.99

With every purchase you will plant 1 tree in the US forests.
10x12 Office Shed Ensures Plenty Space for Work
This office shed can be a great compromise between being at home and working. The door has top to bottom windows so you can enjoy natural light. However, there are minimal windows on the wall. This will give you a corner where your desk can go to help keep nature's distractions at a minimum.
Why Should You Build 10x12 Office Shed?
Yes! It is cost-effective. If you hire a contractor, you could spend thousands more than doing it yourself. You can save up to $2000 by building an office shed on your own.
If you need to move your home office out of the house, this is a great option. Make your office exactly what you need and want.
When you build an office shed, you add value to your house. So you will have a practical use for it now and later, if and when you want to sell your house, it will appeal to buyers.
You Can Definitely Build Your Own Shed!
If you think you can't build your own shed, you can, even if you have never built anything before! Our 10x12 shed plans have step by step instructions. They come with a list of everything you need, including tools, lumber, hardware, and other materials. This will help you to be organized from the very beginning.
After you have all of the things you need, the blueprints are numbered clearly and easy to follow. It takes most people around a week to build their completed office shed. The time frame depends on the size you choose and your schedule. If you enlist the help of friends, it'll go even quicker!
10x12 Office shed facts and figures
Dimensions:
10'-2 3/4" W x 12'-9" L x 9'-9 1/2" H
Materials Cost:
$17-$24 per square foot
Exterior:
Plywood sheathing, wood siding boards, asphalt shingles
Capacity:
120 square feet
Delivery:
Instant PDF download
Interior:
Plywood sheathing
Finishes:
Choice of paint or stain
Real People, Real Reviews.
We ask every paid customer for a review. No matter good or bad. Here is what they say!
Get 10x12 Office Shed Plan Today!
We will deliver the plans straight to your inbox. If for any reason, you are not 100% satisfied, all orders come with a risk-free 30-day money-back guarantee. Just send your payment details to our support and we'll refund in 24 hours.
10×12 Office Shed Plan
Uses: office, storage, studio, yoga

Complete hardware and materials list

Shopping list

Complete lumberyard cut list

Accurate blueprints with easy-read measurements

Colorful diagrams to check your progress

Guidance for building a stable foundation

Instructions for building shed doors from a scratch

Diagrams for installing vents

Printable plans for easy reference
$24.99 – $29.99


Secure online payments are provided by PayPal. For more information please read our delivery and refund policy.