Sale!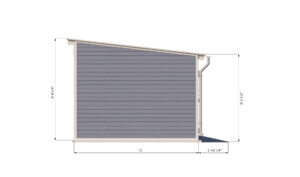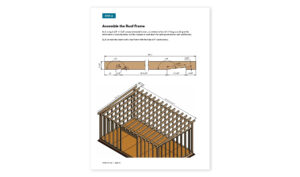 12×20 Lean to storage shed plan
Uses: storage, workshop, studio, pub, home office

Full materials list, including hardware

Full cut list for the lumberyard

Step-by-step blueprints for beginners

Color renderings to check your progress

Instructions for siting and installing the foundation

Guide for building doors from scratch

Diagrams for installing a gutter system

Ready-to-print plans for easy reference
Buy a second plan with 25% discount!
With every purchase you will plant 1 tree in the US forests.
12x20 Lean to Storage Shed Overview
If you have accumulated a lot more stuff than your garage can hold, this 12×20 storage shed might be perfect for you. The shed provides 240 square feet, enough to keep your riding lawn mowers, sports equipment, garden tools, power tools, outdoor furniture, and other valuables organized and protected from the elements. For your long-handled items, like shovels, garden hoes, and rakes, the 8′ – 5 1/2″ height shed's walls are tall enough to allow you to keep such tools off the floor. 
The shed has a 5-feet 4-inch wide opening that allows easy access and hassle-free movement, even when carrying bulky items and supplies. A sturdy 5″ – 5 1/2″ length ramp has been included to allow you to easily wheel bulky items into place. 
Whatever items and machines you want to store, great attention to detail has been delicately intertwined into every aspect of this shed to ensure structural integrity. The shed has also been designed with versatility in mind. It is ideally suited for a backyard workshop, home office, blogger's writing space, daycare center mud-pie kitchen, a small bakery, or any other creative use imaginable. 
With its lean-to roof, the shed will effortlessly blend with other structures on your property. Because it is wooden, you can even paint it to match other outbuildings and your house. 
Why Build Your Own 12x20 Lean to Storage Shed?
DIY and Save Up to $3.500
Buying a ready-made shed from a retailer or hiring a carpenter to build one costs big bucks. Building a shed yourself can save you up to $3,500.
240 sq. ft. Extra Storage Space
With all that extra storage space, you can clear out a considerable amount of stuff in your house. Declutter your life and reclaim your home for rest and relaxation.
Increase Property Value
Wooden sheds are designed to last, and an attractive one will boost your property value. Future buyers will love this addition as much as you do.
Compare Free vs Premium Plan
Check out the main benefits of our premium shed plans. Compare the differences and decide for yourself.
| Features | Free plan | Premium plan | wdt_ID |
| --- | --- | --- | --- |
| Steps count | Up to 15 | Up to 50 | 1 |
| Illustrations for each step | Yes | Yes | 2 |
| Print ready | Yes | Yes | 3 |
| Step-by-step instructions | Yes | Yes | 4 |
| Shopping list | No | Yes | 5 |
| Cutting list | No | Yes | 6 |
| Extra illustrations & Blueprints | No | Yes | 7 |
| Fastening elements | No | Yes | 8 |
| Tools list | No | Yes | 9 |
12x20 Storage shed facts and figures
Dimensions:
12' W x 20' L x 9'-9 3/4" H
Materials Cost:
$17-$24 per square foot
Exterior:
Plywood sheathing, clapboard siding, asphalt shingles
Capacity:
240 square feet
Delivery:
Instant PDF download
Interior:
Plywood sheathing
Finishes:
Choice of paint or stain
Real People, Real Reviews.
We ask every paid customer for a review. No matter good or bad. Here is what they say!
A nice set of plans to give us an idea… A nice set of plans to give us an idea of what it costs to build on site vs buying a prefab structure, and the quality differences between them. This set of plans is "bomb proof" according to my local lumberyard guy. 2x6 joists on 12" centers, compared to 2x4s on 24" centers for the prefab models. A real foundation, not just some 4x4 skids. It looks like a major amount of work, but the result could be a really nice garden shed sturdy enough to house our commercial-grade chipper as well as the big mower.
Getting my plans was so easy. Getting my plans was so easy, I picked the plan I wanted I paid for it I downloaded it instantly.
James Isbrandt
2021-10-02
The price for plans is way too high The price for plans is way too high, but the plans are fairly decent. You DO have to know a little something about construction and adjustments of measurements, but for the most part, not too bad.
Excellent detail of materials list and… Excellent detail of materials list and constructions specifications
Excellent Excellent plans and customer support
Concise and Detailed The plans were concise and contained everything I needed. The images were extremely helpful as well as the cut list.
A little hard to follow in some places A little hard to follow in some places
A+++++++++++ A+++++++++++
The plans are missing a critical step The plans were missing a critical step, and my original message to Shedplans wasn't received. I received a message from them after posting my problem here, and they subsequently sent me the revised instructions. Very grateful for their follow-up. Now if lumber prices would just return to normal....

Buy 12x20 Shed Plans With Confidence!
We will deliver the plans straight to your inbox. If for any reason, you are not 100% satisfied, all orders come with a risk-free 30-day money-back guarantee. Just send your payment details to our support and we'll refund in 24 hours.
Buy a second plan with 25% discount!
| Buy Now
Add to cart

Secure online payments are provided by PayPal. For more information please read our delivery and refund policy.