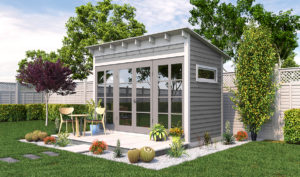 12×6 Office shed plan
Uses: storage, office, studio, tiny house, she shed

Full materials list, including hardware

Full cut list for the lumberyard

Step-by-step blueprints for beginners

Color renderings to check your progress

Instructions for siting and installing the foundation

Guide for building windows and doors from scratch

Plans for decorative elements such as shutters and lattice

Diagrams for installing a gutter system

Ready-to-print plans for easy reference
$24.99 – $29.99
With every purchase you will plant 1 tree in the US forests.
Modern DIY 12x6 Office Shed
Building your own office shed will give you 72 square foot of storage or work space when you're done. This compact design features a lean-to style roof that makes it a great choice for beginning carpenters. Best of all, the compact footprint fits easily into even the smallest back yard.
Why Build Your Own 12x6 Lean-to Office Shed?
Buying a ready-made shed from a retailer or hiring a carpenter to build one costs big bucks. Building a shed yourself can save you up to $1,500.
With all that extra storage space, you can clear out a 72 sq. ft. in your house. Declutter your life and reclaim your home for rest and relaxation.
Wooden sheds are designed to last, and an attractive one will boost your property value. Future buyers will love this addition as much as you do.
Yes, You Can Build Your Own Shed!
Think you don't know how to build a shed? Think again! Our 12x6 DIY garden shed plan has everything you need to get the job done right. We include a list of tools so you can gather everything together before you start. There's also a complete cut list for materials broken down by section, so you can buy it all at once or build it in stages.
With lots of colorful diagrams and clearly numbered steps, you can build your new garden shed in about 4 to 7 days. When you choose big storage shed, you'll need a helper to raise the walls and frame the roof, so be sure to ask a friend to join in the fun for large sheds.
12x6 Garden shed facts and figures
Dimensions:
12'-1 1/2" L x 6'-1 1/2" W x 9'-4 1/4" H
Materials Cost:
$17-$24 per square foot
Exterior:
Plywood sheathing, clapboard siding, asphalt shingles
Delivery:
Instant PDF download
Interior:
Plywood sheathing
Finishes:
Choice of paint or stain
Download Your 12x6 Shed Plan Today!
We will deliver the plans straight to your inbox. If for any reason, you are not 100% satisfied, all orders come with a risk-free 30-day money-back guarantee. Just send your payment details to our support and we'll refund in 24 hours.
12×6 Office shed plan
Uses: storage, office, studio, tiny house, she shed

Full materials list, including hardware

Full cut list for the lumberyard

Step-by-step blueprints for beginners

Color renderings to check your progress

Instructions for siting and installing the foundation

Guide for building windows and doors from scratch

Plans for decorative elements such as shutters and lattice

Diagrams for installing a gutter system

Ready-to-print plans for easy reference
$24.99 – $29.99

Secure online payments are provided by PayPal. For more information please read our delivery and refund policy.