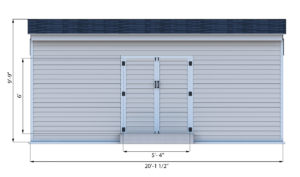 14×20 Storage shed plan
Uses: storage, workshop, office, studio, pub shed
Full list of materials and hardware
Cut list for wooden components
Blueprints with detailed measurements
Color diagrams to enhance written directions
Details on how to site and install the foundation
Instructions for building a lean-to roof
Plans for building your own barn doors
Diagrams for building a louvered vent system
$24.99 – $29.99
With every purchase you will plant 1 tree in the US forests.
Build Your Own Large Shed for Sports Equipment, Tools, Hobbies, and More
When you need extra-large storage shed, look no further than this 14x20 design with a lean-to roof that looks great with a variety of architectural styles. It has enough space for a lawnmower, snow blower, rototiller, plus all your sports equipment and lawn furniture, too. Our highly detailed plans allow beginners and seasoned builders to construct an affordable shed that adds beauty and function to any back yard.
3 Reasons to Build 14x20 Lean-to Storage Shed
Hiring a carpenter to build a custom shed is costly. Building a shed yourself? You keep up to $4,000 in your pocket.
Declutter your life with a storage shed that can free up to 280 sq. ft. in your house. Then relax and enjoy your home again.
Future homebuyers will love your wooden shed as much as you do. A great shed boosts your overall property value.
You Can Do It on Your Own!
Worried you don't have the skills or know-how to build a shed? No problem! Our 14x20 DIY storage shed plan makes it easy to complete this project, even if you've never built anything before. We make it easy to get started with a full list of tools and materials. Buy it all at once or build it in stages — the choice is yours.
Unlike standard contractor's blueprints, we include plenty of colorful pictures and easy-to-follow numbered steps. Depending on the size of your shed, you can build it in about 4 to 7 days. If you opt for a 10' x 20' shed or larger, you'll need a helper to raise the roof, so make sure to line up a friend to assist with large sheds.
14x20 Storage shed facts and figures
Dimensions:
14'-1 1/2" W x 20'-1 1/2" L x 9'-9" H
Materials Cost:
$17-$24 per square foot
Exterior:
Plywood sheathing, clapboard siding, asphalt shingles
Capacity:
280 square feet
Delivery:
Instant PDF download
Interior:
Plywood sheathing
Finishes:
Choice of paint or stain
Real People, Real Reviews.
We ask every paid customer for a review. No matter good or bad. Here is what they say!
Get 14x20 Shed Plans for Your Backyard Today!
We will deliver the plans straight to your inbox. If for any reason, you are not 100% satisfied, all orders come with a risk-free 30-day money-back guarantee. Just send your payment details to our support and we'll refund in 24 hours.
14×20 Storage shed plan
Uses: storage, workshop, office, studio, pub shed
Full list of materials and hardware
Cut list for wooden components
Blueprints with detailed measurements
Color diagrams to enhance written directions
Details on how to site and install the foundation
Instructions for building a lean-to roof
Plans for building your own barn doors
Diagrams for building a louvered vent system
$24.99 – $29.99

Secure online payments are provided by PayPal. For more information please read our delivery and refund policy.