Sale!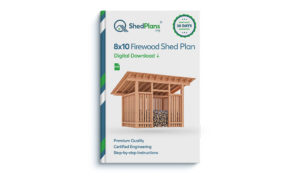 8×10 Firewood Shed Plan
Uses: Firewood storage
Capacity: 4 cord

Complete hardware and materials list

Shopping list

Complete lumberyard cut list

Easy step-by-step instructions for beginners

Accurate blueprints with easy-read measurements

Colorful diagrams to check your progress

Printable plans for easy reference
Buy a second plan with 50% discount!
With every purchase you will plant 1 tree in the US forests.
Build your Spacious Shelter for Firewood
Build an innovative patent firewood shade for dry wood that burns 2x faster. We designed this firewood shed to ensure that you have seasoned wood ready even during winter. With such a substantial building, enough heat is retained, and moisture kept away to keep the wood dry. In addition, the structure offers enough ventilation that helps in the process of drying. It's also simple to build and budget-friendly. With the step-by-step instructions, you'll be in a position to create a DIY 8x10 firewood shade in a couple of days.
Why Homeowners Should Build a 8x10 Firewood Shed
DIY and Save Up to $240
According to the Associated General Contractors of America (ACG), the average cost can range between $15 to $30 per square foot saved on hiring a professional contractor to build a 8x10 firewood shed vs doing it yourself (DIY).
80 sq. ft. Extra Space Where You Need it
Although the construction and design of an 8x10 firewood shed can be customized, the size of the structure makes it easy and light enough for two adults to safely relocate or the use of a dolly with straps can make this job a breeze.
Increase Property Value
Adding a new 8x10 firewood shed can enhance your landscaping and adds property value to your home. Depending on the finishes or custom trim packages readily available at most DIY firewood shed providers, can increase or slightly hold its value on future property tax assessments.
You Can Definitely Build Your Own Shed!
Beginner Friendly Instructions
If you think you can't build your own shed, you can, even if you have never built anything before! Our 12x16 firewood shed plans have step-by-step instructions. They come with a list of everything you need, including tools, lumber, hardware, and other materials. This will help you to be organized from the very beginning.
Easy to Build
After you have all of the things you need, the blueprints are numbered clearly and easy to follow. It takes most people only a day or two to build their completed firewood shed. The time frame depends on the size you choose and your schedule. If you enlist the help of friends, it'll go even quicker!
8x10 firewood shed facts and figures
Dimensions:
8' W x 10' L x 9' 10" H
Materials Cost:
$17-$24 per square foot
Exterior:
Plywood sheathing, wood siding boards, asphalt shingles
Delivery:
Instant PDF download
Interior:
Plywood sheathing
Finishes:
Choice of paint or stain
Real People, Real Reviews.
We ask every paid customer for a review. No matter good or bad. Here is what they say!

Buy 8x10 Shed Plans With Confidence!
We will deliver the plans straight to your inbox. If for any reason, you are not 100% satisfied, all orders come with a risk-free 30-day money-back guarantee. Just send your payment details to our support and we'll refund in 24 hours.
$19.99 | Buy Now

Secure online payments are provided by PayPal. For more information please read our delivery and refund policy.